BOINZ CONFERENCE
Ross McCarthy, our Strategic and Engagement Manager, and Dave Gittings, from Carterton District Council, had a busy and successful three days at the BOINZ conference in Auckland recently. The main focus at the conference was to discuss what GoShift is about. Ross said that there were some really positive discussions with a number of councils from across the country.
"We attended the conference to start pushing the message that we need to start working towards the same or similar goals across the country," he said. "It was good to be able to push the message that GoShift is not a system, that we are aiming to have all councils connected together and that we will achieve a national sustainable workforce if we all start rowing in the same direction."
PROCESSING CHECKLISTS
The content and structure of the processing checklists have been agreed by GoShift council representatives. We are now planning the implementation of the checklists to make them available for use. The checklists will go out to councils in June with implementation and change occurring over the next 6-12 months. This will be dependent on individual councils and their own capacity for change in the current environment.
ONLINE SERVICE PILOT
The online service pilot is going well. Twenty three customers are involved in the pilot so far and the feedback has been positive. Next month, the pilot governance group will meet to decide whether or not to make the online portal live to the remaining GoShift councils on 1 July.
COMING UP
This month we are working on firming up funding for the 17/18 financial year. MoUs will be sent to all councils soon.
We will also be kicking off work on the shared Quality Management System. The QMS Steering group will meet for the first time on 7 June followed by a workshop with Quality Managers on 14 June.
In the year ahead we are planning to transition GoShift from an initiative to a Business As Usual (BAU) operating model. Part of the transition will involve setting up a new entity which will be responsible for the management and maintenance of the GoShift products and tools developed so far. Along with the new entity, a new funding model is proposed which will see a shift from a lump sum fee to a per consent fee. The new model will allow councils to choose between different subscription types and allow other councils to use GoShift products and services.
MORE ABOUT GOSHIFT COUNCILS
A new feature in our monthly update is that each month we will profile one of our GoShift councils. Our first is South Taranaki :
Some places just offer more of what really counts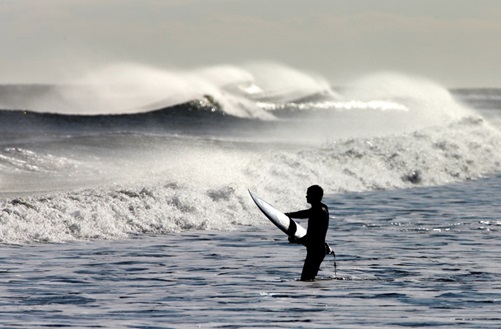 South Taranaki is a district of unlimited potential. Wedged between the majestic Mount Taranaki and the Tasman Sea, South Taranaki is blessed with an abundance of natural resources, spectacular scenery, temperate climate and a rich cultural heritage. Photo Rob Tucker
South Taranaki is one of the three district's which make up the Taranaki region. It is situated on the west coast of the North Island roughly midway between Whanganui and New Plymouth. The District has a population of approximately 26,600 people spread throughout seven towns and a number of smaller rural and coastal communities, all of which have a strong sense of community.
In terms of lifestyle it doesn't get much better than South Taranaki. Recreational opportunities abound and everything is at your doorstep - the mountain and the sea are only a stone's throw apart. The rugged coastline offers some of the best surfing and windsurfing in New Zealand (in fact, Surf Highway 45 is considered one of the best surf coastlines in the world) and the fishing off the south Taranaki coast is just superb. Mount Taranaki provides great walking and tramping opportunities.
South Taranaki has an amazing number of high quality facilities which districts its size would usually struggle to have. From a state-of-the-art multi-purpose sport, events and recreation complex, to modern cinemas, ultra-fast fibre, function centres, libraries, art galleries, museums, parks and aquatic centres - South Taranaki boasts all the benefits of a city without the hassles.
Add to that minimal traffic (they proudly have no traffic lights), low unemployment, affordable housing and safe, caring communities and you'll see why South Taranaki is the perfect place to raise a family and call home.
Visit www.southtaranaki.com to find out more about South Taranaki.